Usability of Social Commenting
One of the biggest differentiation for various social networks is their usability. Let us look at some real world examples of how usability of social commenting can be improved with a simple solution.
How does social commenting work?
Let us take the game of cricket as an example. While a match is going on, it is common to do a live blog of the game. Fans and followers have the opportunity to participate by sharing their views and comments. Post-match, articles and analysis of the game are published online. Once again fans can provide their comments on these blogs or articles.
It is common for a participant in these online events to post several messages or comments. And several of these could be in response to someone else's comments. The snapshot below is taken from the England vs. Australia ODI match - this is snippet of the Live Blog by Cricket Australia.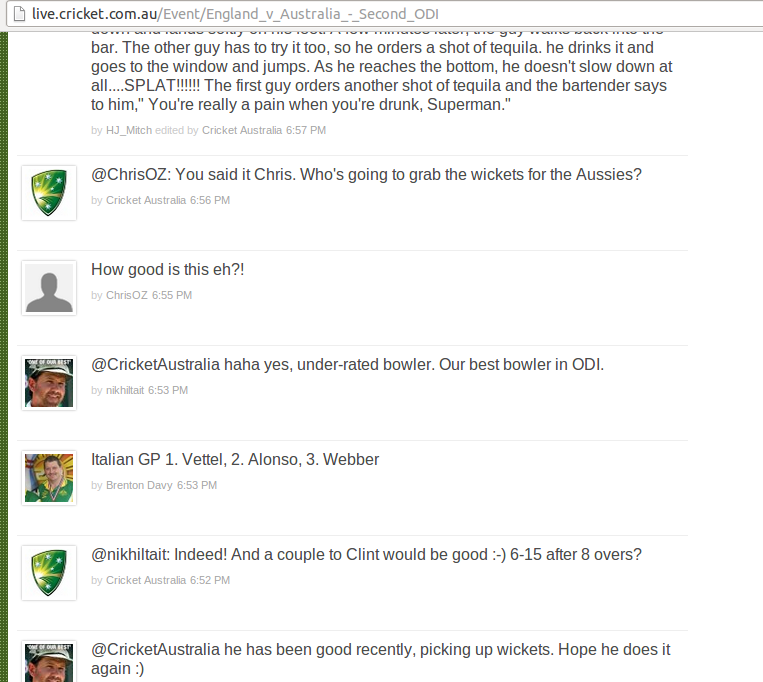 As you can see users are addressing each other using the common Twitter syntax '@user'. This allows one user to specifically respond to some other user's comments.
The Usability Problem
This model starts to fail when there are large number comments from a set of users. This usability issue becomes more prominent when you go back to read the live blog transcript at a later time. While the user is addressed using the Twitter handle, it is not easy to identify which comment is this new comment responding to.
Usability improvement to identify the specific comment
Let us now look at how BBC's web site addresses this usability issue. It is a very simple solution. They added a sequence number to each post, as shown in the snapshot below from their wrap-up article on 2013 Ashes.
See how comment number 200 and 199 refer to the earlier comments. Users can just refer to the number of the post while addressing someone else's comments. This can still be done using the Twitter syntax '@number' or 'number'. By using a number, user can identify a specific user and her specific comment.
What are your thoughts on this topic? Please leave your comments below.